Turn key execution Electrical and Instrumentation projects from
concept to commissioning.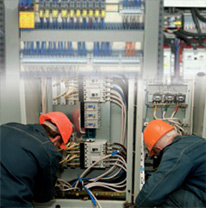 Power Corp is specialized in providing complete electrical & instrumentation services for the Oil & Gas as well as Commercial & Industrial sector . It is one of the most dependable contractors in execution of turnkey contracts, handling everything from systems concept to detailing , procurement , installation, testing and commissioning.

Our project execution strength comes through investing in the right management, administration and operational staff and the right systems, resulting in a flexible, comprehensive industrial support organization to excel, even in the most demanding situations.

Continuous training and development of the highest caliber of quality and safety conscious staff for every procedure and the latest systems is vital to Power Corp's reputation for dependable, environmentally responsible services.
With a tremendous procurement strength and the ability to further leverage of the strength of its parent company, Power Corp has an infrastructure and a pool of talent that allows high quality facilities management services at competitive prices.
Our employees are highly skilled and well trained experts which leads to successful implementation of each assignment. Power Corp is certified and is confident of maintaining high quality workmanship and professional management standards.
We do the following Electrical Works
Installation of complete Substation including Electrical switchgear and Transformer
Power and Control cable laying and termination works
Installation of cable Tray and Ladder
Installation of conduits , wiring and lighting works
Installation of Earthing and Lighting Equipment protection systems
Installation of Generator and Auto transfer systems
HEALTH & SAFETY ( HSE )

The Management of Power Corp is committed to the Health and Safety of its Employees and for all who are involved in our works. Protection of employees from injury or occupational