Civil Contracts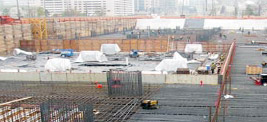 POWER CORP to deliver beyond the traditional requirements in building & road works, earth works and concrete works.
We always aim to provide top quality workmanship at a competitive price and are aware that the finished project relects upon our credibility as a company. Therefore, we take pride in our work and operate under a quality assurance system, which ensures that our projects meet industry standards and client expectations.
POWER CORP have a clear understanding of the many environmental issues, permits and licenses that are required for construction, civil and dredging projects and have produced several Environmental Management Plans that address the requirements of several agencies and take into consideration how the work will be completed.
HEALTH & SAFETY ( HSE )

The Management of Power Corp is committed to the Health and Safety of its Employees and for all who are involved in our works. Protection of employees from injury or occupational